Real People, Real Faith-Sharing Stories!
You're in for a shock! If you don't share your faith, you're missing all the fun and blessings of being a Christian! It's what being a Christian is all about. Winning the lost is a team sport and it's time for you to get off the bench and into the game, and when you do, God promises you in John 15:11 that His Joy will remain with you and your joy will remain full. Wow! These are real people, from all walks of life, surprising you with real stories of how much fun they're having moving everyone, every day, closer to Jesus. Use them as role models for your own life and start having the time of your life.
---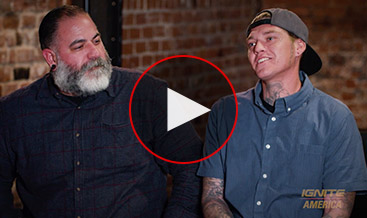 Date Published: April 8, 2021
Louie's and Bradly's stories are a real-life description of the saying that faith sharing is "one beggar telling another beggar where to find bread."  Louie was a heroin addict who came to faith through a relationship with a former addict had come to faith.  After coming to faith and beating his addiction, Louie began to seek out other addicts to help them know they are lovable and loved by God.  Learn how Louie's relationship with Bradly helped him escape his addiction.  Since coming to faith, Bradly is following Louie's example and reaching out to other addicts who, over time, will ultimately help others find Jesus – the bread of life.
Watch Now