Real People, Real Faith-Sharing Stories!
You're in for a shock! If you don't share your faith, you're missing all the fun and blessings of being a Christian! It's what being a Christian is all about. Winning the lost is a team sport and it's time for you to get off the bench and into the game, and when you do, God promises you in John 15:11 that His Joy will remain with you and your joy will remain full. Wow! These are real people, from all walks of life, surprising you with real stories of how much fun they're having moving everyone, every day, closer to Jesus. Use them as role models for your own life and start having the time of your life.
---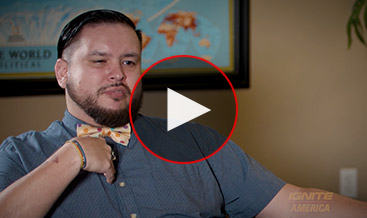 Date Published: June 2, 2021
Nothing could stop Joseph's face to shine for the Lord — not even Bell's palsy! "There was just a strength that came upon me," Joseph remembers. And though a noticeable droop affected part of his face, Joseph didn't let his circumstances pull him down. Learn how the joy of the Lord was visible to all Joseph encountered, and how he took advantage of a temporary sickness to talk about his faith.
Watch Now